Avaliação de resiliência da infraestrutura digital
Many organizations have complex infrastructures made up of multiple data centers, colocation facilities and the cloud. While these infrastructures offer new capabilities, widely distributing your core IT business services across hybrid structures can greatly reduce the level of control and visibility available.
Our Digital Infrastructure Resiliency Assessment provides IT executives and staff with a thorough evaluation of risks, as well as the expected performance of critical services that span data centers, colocation facilities and the cloud. A hybrid infrastructure data center assessment can offer valuable insights into the overall performance of a complex system.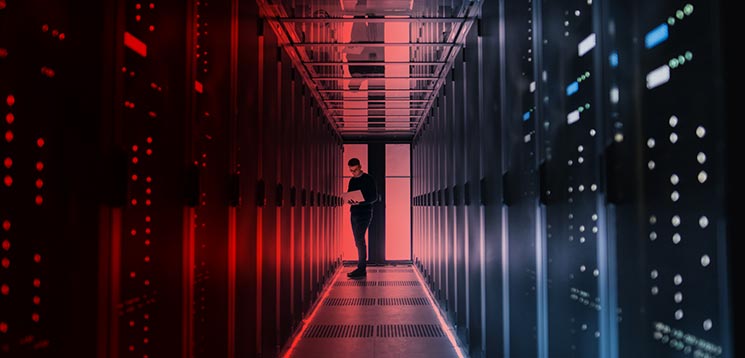 Dúvidas sobre nossa avaliação de resiliência da infraestrutura digital?
Preencha o formulário de contato abaixo e um dos especialistas em resiliência de infraestrutura digital entrará em contato com você imediatamente.
A adoção de tecnologia híbrida introduziu riscos desconhecidos à sua organização?
0
%
IT Outages can be Attributed to Infrastructure Failures by Cloud & Colocation Suppliers
If you adopt a hybrid infrastructure, your colocation and cloud partners become a key part of your mission-critical operations.

This increases your risk due to dependency on an outside partner. What happens if they experience an outage or service degradation event?

FONTE:
Causas e consequências das interrupções de datacenter em 2017
0
%
of IT Executives Reported Increasing Concern Over Outages Compared to the Year Prior
Cloud and colocation services are becoming more popular at the same time that IT outages are becoming more costly than ever before.

Partner service-level agreements (SLAs) outline contractual obligations in the event of an outage, but who is ultimately responsible for protecting your enterprise's brand and reputation, which can greatly suffer if service is interrupted?

FONTE:
Resultados da Datacenter Industry Survey 2017 do Uptime Institute

0
%
of Cloud Customers Who Have Been With Their Provider For Less Than 24 Months
While owned and operated infrastructure is battle-tested and known for solid performance, many hybrid infrastructure deployments are new and still learning the ropes.

Como os novos provedores se sairão nos momentos mais importantes?

FONTE:
A hybrid data center assessment regarding your digital resiliency is important in developing an unbiased, expert evaluation of your performance. It can help you determine the next steps and make important decisions about the organization and its digital infrastructure.
Avaliação independente da infraestrutura híbrida de uma organização
Our Digital Resiliency Assessment reviews your organization's complex infrastructure and provides a measurement of how well it can deliver on specific IT services. We review the components individually and look at how they are connected and managed. Then, our team identifies key areas to focus on and any weak links. This information provides a roadmap for making adjustments to staffing, processes or technology, as well as guiding future spending decisions and strategic investments.
Another element that can come from the assessment is Tier Certification. The Tier Standard of Uptime Institute is globally recognized for measuring reliability and performance. Organizations that achieve Tier Certification display a commitment to excellence and can find high levels of uptime and efficiency.
Quantificação do risco
With a Digital Infrastructure Resiliency Assessment, we evaluate the interactions between each component in your hybrid infrastructure and figure out how it behaves as a holistic service delivery system.
Avaliação da resiliência
This assessment provides IT executives and staff members with a holistic measurement of the strength of the system at the application and service level. Executives can then better align business requirements with the capabilities and limitations of the hybrid platform.
Hora de Ação
Our Digital Infrastructure Resiliency Assessment culminates in an in-depth resiliency report that covers the expected performance of specific business services, along with a list of vulnerabilities and practical recommendations for improvement.
Cinco elementos da avaliação de resiliência da infraestrutura digital
The Digital Resiliency Assessment considers each functional area independently. These areas can be optimized to ensure deliverable IT services that meet business requirements without interdependencies.

Organização
The organizational structure should align resilience capabilities with business priorities.

Aplicação
Dependencies and investment priorities match up to business needs.

Plataforma
We conduct an evaluation of platform performance, driving visibility and the control of IT services.

Network
We assess network architecture, redundancy and performance testing processes.

Datacenter
Infrastructure redundancy and operational rigor should align with workload priorities.
Estabelecimento do processo de avaliação
Uptime Institute consultants will collect data about your organization's structure, hybrid IT infrastructure and resiliency objectives. This initial phase identifies the current state of your hybrid infrastructure, third-party service and partner dependencies and key stakeholders. All of this research is in preparation for the on-site workshop.
Fase 2
Discussões no local
Os consultores do Uptime Institute realizarão análises detalhadas sobre o local com os principais stakeholders para entender os objetivos de negócios, mapear as arquiteturas existentes, quantificar a tolerância a riscos organizacionais, identificar serviços críticos e revisar os processos de operação e gerenciamento de TI.
Fase 3
Entrega da avaliação
Once the data center infrastructure resiliency assessment is complete, Uptime Institute consultants will prepare an in-depth report covering the expected performance of specific business services. They will also deliver a scorecard outlining your digital infrastructure resiliency effectiveness aligned around the five focus areas of the data center resiliency assessment.
As principais marcas do mundo procuram o Uptime Institute por sua experiência em resiliência de TI
Acxiom
Allinfnt Finance and Technology Development Co., Ltd.
Allstate
AT&T
Bayer U.S. LLC
The Boeing Company
BMO Financial Group
Bradesco
Capital Group Companies Global
CGI
Chesapeake Energy
China Mobile
China Welfare Lottery
Colt Technology Services
Datacenters Compass
Cyxtera
Datacampus
Datacampus
Deere & Company
Departamento de assuntos relacionados a veteranos
Depository Trust & Clearing Corporation
DFT
DigiPlex
Digital Realty Trust
DST Systems, Inc.
Entel S.A. Chile
Equinix do Brasil
e-shelter
FannieMae
Fastweb
Fidelity Investments
First Citizens Bank
Fujitsu Services Limited
Green Mountain Data Centre
Highmark
Huawei
ING
Iron Mountain
Itau-Unibanco
JPMorgan Chase
Kaiser Permanente
LuxConnect
McKesson
Mentor Graphics
Mobily
Morgan Stanley
Nationwide
Bolsa de valores de Nova Iorque
RagingWire Datacenters
BMO Financial Group
Sabey Datacenter Properties
Saudi Aramco
Société Générale
SoftLayer Technologies, Inc.
Sun Life Financial
T5 Datacenters
Target
TD Bank
Thomson Reuters
Turk Telekom
UniCredit Group
United Airlines
United Parcel Service
UnitedHealth Group
Banco dos EUA
Verizon
VIRTUS Data Centres
Visa, Inc.
Wells Fargo
Procurando mais informações sobre a avaliação de resiliência da infraestrutura digital?
---